Analyze the principles behind informative visualizations
Incorporate visualization into an analysis workflow
Learn to make "the design plot"
Select different visualizations of variability and distribution
Connect visualization concepts to measurement principles
What makes visualizations so useful, and what role do they play in the experimenter's toolkit? Simply put, data visualization is the act of "making the invisible visible." Our visual systems are remarkably powerful pattern detectors, and relationships that aren't at all clear when scanning through rows of raw data can immediately jump out at us when presented in an appropriate graphical form (Zacks and Franconeri 2020). Good visualizations aim to deliberately harness this power and put it to work at every stage of the research process, from the quick sanity checks we run when first reading in our data to the publication-quality figures we design when we are ready to communicate our findings. Yet our powerful pattern detectors can also be a liability; if we're not careful, we can easily be fooled into seeing patterns that are unreliable or even misleading. As psychology moves into an era of bigger data and more complex behaviors, we become increasingly reliant on data visualization literacy (Börner, Bueckle, and Ginda 2019) to make sense of what is going on.
Mapping a pandemic
In 1854, a deadly outbreak of cholera was sweeping through London. The scientific consensus at the time was that diseases like cholera spread through breathing poisonous and foul-smelling vapors, an idea known as the "miasma theory" (Halliday 2001). An obstetrician and anesthesiologist named John Snow, however, had proposed an alternative theory: rather than spreading through foul air, he thought that cholera was spreading through a polluted water supply (Snow 1855). To make a public case for this idea, he started counting cholera deaths. He marked each case on a map of the area, and indicated the locations of the water pumps for reference. Furthermore, a line could be drawn representing the region that was closest to each water pump, a technique which is now known as a Voronoi diagram (https://en.wikipedia.org/wiki/Voronoi_diagram). The resulting illustration clearly reveals that cases clustered around an area called Golden Square, which received water from a pump on Broad Street (Figure 15.1). Although the precise causal role of these maps in Snow's own thinking is disputed, and it is likely that he produced them well after the incident (Brody et al. 2000), they nonetheless played a significant role in the history of data visualization (Friendly and Wainer 2021).
Nearly two centuries later, as the COVID-19 pandemic swept through the world, governmental agencies like the CDC (https://covid.cdc.gov/covid-data-tracker) produced maps of the outbreak that became much more familiar (Figure 15.2).
These maps make abstract statistics visible: By assigning higher cumulative case rates to darker colors, we can see at a glance which areas have been most affected. And we're not limited by the spatial layout of a map. We're now also used to seeing the horizontal axis correspond to time and the vertical axis correspond to some value at that time. Curves like the following, showing the 7-day average of new cases, allow us to see other patterns, like the rate of change. Even though more and more cases accumulate every day, we can see at a glance the different "waves" of cases, and when they peaked (Figure 15.3).
While these visualizations capture purely descriptive statistics, we often want our visualizations to answer more specific questions. For example, we may ask about the effectiveness of vaccinations: how do case rates differ across vaccinated and unvaccinated populations? In this case, we may talk about "breaking out" a curve by some other variable, like vaccination status (Figure 15.4).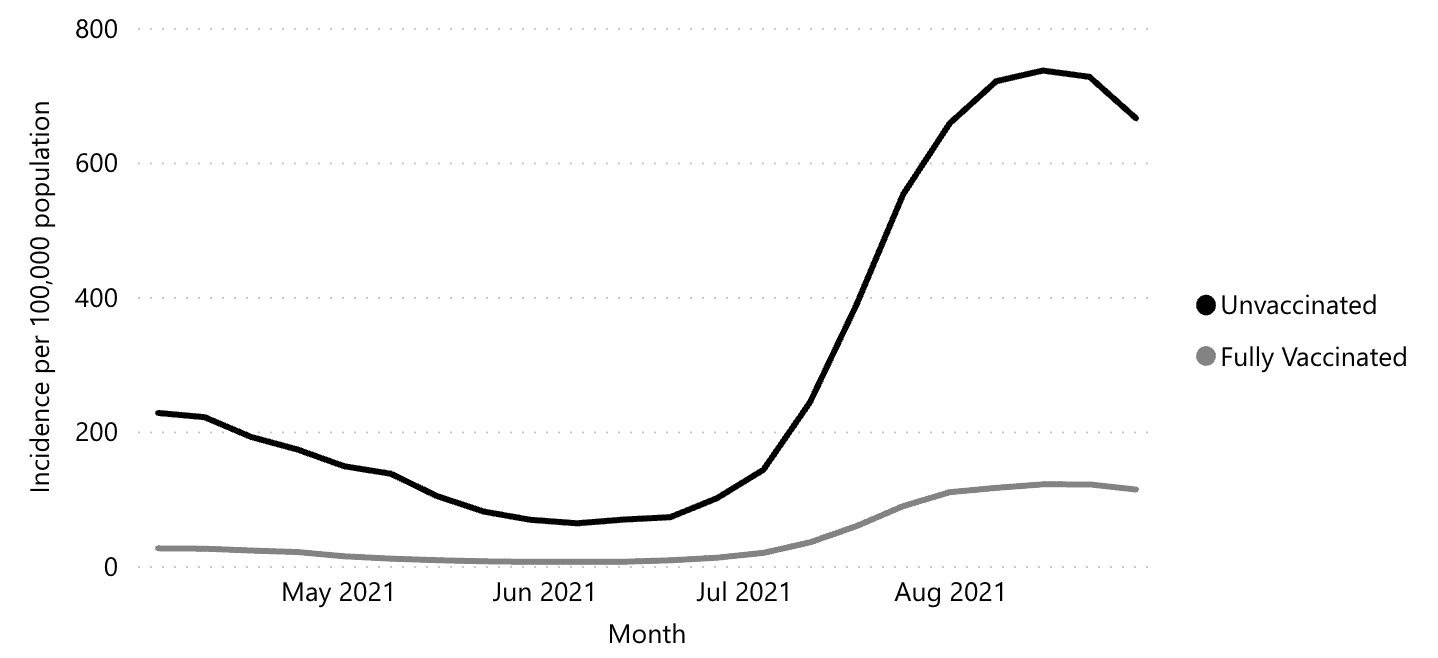 From this visualization, we can see that unvaccinated individuals are about 6x more likely to test positive. At the same time, these visualizations were produced using observational data, which makes it challenging to draw causal inferences. For example, people were not randomly assigned to vaccination conditions, and those who have avoided vaccinations may differ in other ways than those who sought out vaccinations. Additionally, you may have noticed that these visualizations typically do not give a sense of the raw data, the sample sizes of each group, or uncertainty about the estimates. In this chapter, we will explore how to use visualizations to communicate the results of carefully controlled psychology experiments, which license stronger causal inferences.