Manage your research projects efficiently and transparently
Develop strategies for data organization
Optimize sharing of research products, like data and analysis code, by ensuring they are Findable, Accessible, Interoperable, Reusable (FAIR)
Discuss potential ethical constraints on sharing research products
Your closest collaborator is you six months ago, but you don't reply to emails.

— Karl Broman (2016)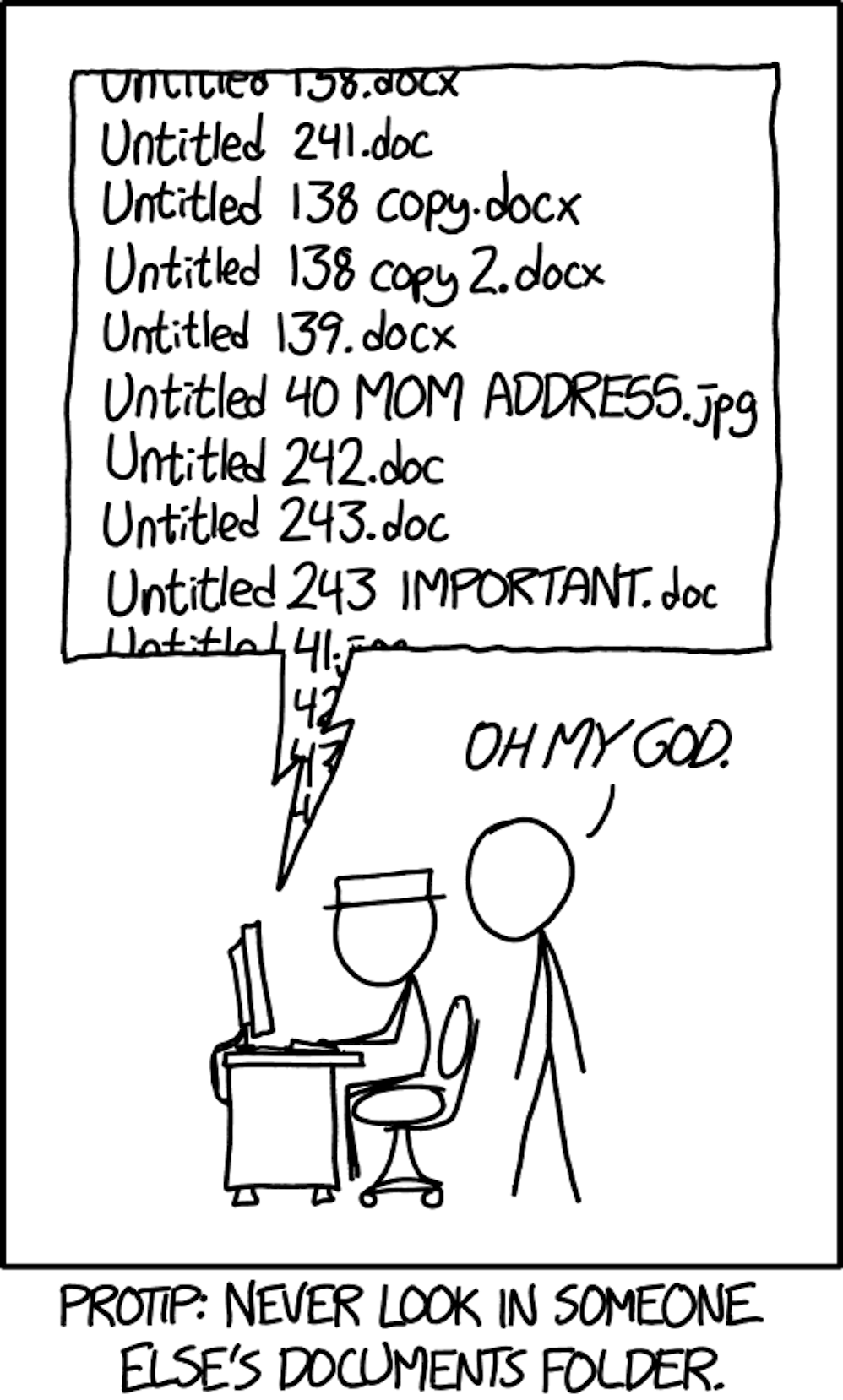 Have you ever returned to an old project folder to find a chaotic mess of files with names like analysis-FINAL, analysis-FINAL-COPY, and analysis-FINAL-COPY-v2? Which file is actually the final version!? Or perhaps you've spent hours searching for a data file to send to your advisor, only to realize with horror that it was only stored on your old laptop – the one that experienced a catastrophic hard drive failure when you spilled coffee all over it one sleepy Sunday morning. These experiences may make you sympathetic to Karl Broman's quip above. Good project management practices not only make it easier to share your research with others, they also make for a more efficient and less error prone workflow that will avoid giving your future self a headache. This chapter is about the process of managing all of the products of your research workflow – methodological protocols, materials1, data, and analysis scripts – in ways that maximize their value to you and to the broader research community.
1 We use the term "materials" here to cover a range of things another researcher might need in order to repeat your study, for example, stimuli, survey instruments, and code for computer-based experiments.
When we talk about research products, we typically think of articles in academic journals, which have been scientists' main method of communication since the scientific revolution in the 1600s.2 But articles only provide written summaries of research; they are not the original research products. In recent years, there have been widespread calls for increased sharing of research products, such as materials, data, and analysis code (Munafò et al. 2017). When shared appropriately, these other products can be as valuable as a summary article: Shared stimulus materials can be reused for new studies in creative ways; shared analysis scripts can allow for reproduction of reported results and become templates for new analyses; and shared data can enable new analyses or meta-analyses. Indeed, many funding agencies, and some journals, now require that research products be shared publicly, except when there are justified ethical or legal constraints, such as with sensitive medical data (Nosek et al. 2015).
2 The world's oldest scientific journal is the Philosophical Transactions of the Royal Society, first published in 1665.
Data sharing, in particular, has been the focus of intense interest. Sharing data is associated with benefits in terms of error detection (Hardwicke et al. 2021), creative re-use that generates new discoveries (Voytek 2016), increased citations (Piwowar and Vision 2013), and detection of fraud (Simonsohn 2013). According to surveys, researchers are usually willing to share data in principle (Houtkoop et al. 2018), but unfortunately, in practice, they often do not, even if you directly ask them (Hardwicke and Ioannidis 2018)! Often authors simply do not respond, but when they do, they frequently report that data have been lost because they were stored on a misplaced or damaged computer or drive, or team members with access to the data are no longer contactable (Tenopir et al. 2020).
As we have discussed in Chapter 3, even when data are shared, they are not always formatted in a way that they can be easily understood and re-used by other researchers, or even the original authors! This issue highlights the critical role of metadata: information that documents the data (and other products) that you share, including README files, codebooks that document datasets themselves, licenses that provide legal restrictions on reuse, etc. We will discuss best-practices for metadata throughout the chapter.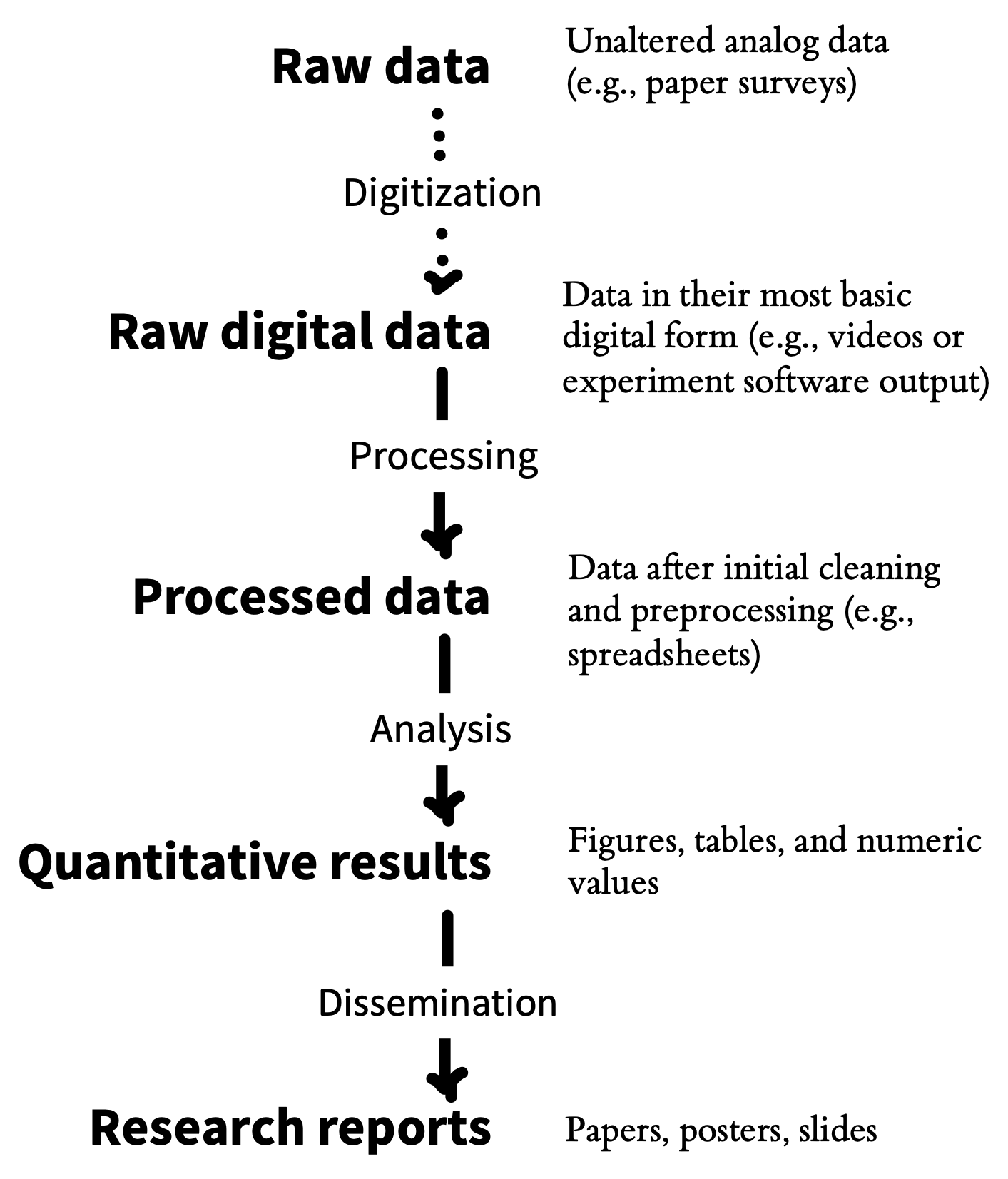 Sound project management practices and sharing of research projects are mutually reinforcing goals that bring benefits for both yourself, the broader research community, and scientific progress. One particularly important benefit of good project management practices is that they enable reproducibility. As we discussed in Chapter 3, computational reproducibility involves being able to trace the provenance of any reported analytic result in a research report back to its original source. That means being able to recreate the entire analytic chain from data collection to data files, though analytic specifications to the research results reported in text, tables, and figures. If data collection is documented appropriately, and if data are stored, organized, and shared, then the provenance of a particular result is relatively easy to verify. But once this chain is broken it can be hard to reconstruct , Figure 13.2. That's why it's critical to build good project management practices into your research workflow right from the start.
In this chapter, you will learn how to manage your research project both efficiently and transparently. Working towards these goals can create a virtuous cycle: if you organize your research products well, they are easier to share later, and if you assume that you will be sharing, you will be motivated to organize your work better! We begin by discussing some important principles of project management, including folder structure, file naming, organization, and version control. Then we zoom in specifically on data and discuss best practices for data sharing. We end by discussing the question of what research products to share and some of the potential ethical issues that might limit your ability to share in certain circumstances.3
3 This chapter – especially the last section – draws heavily on Klein et al. (2018), an article on research transparency that several of us contributed to.
ManyBabies, ManySpreadsheetFormats!
The ManyBabies project is an example of "Big Team Science" in psychology. A group of developmental psychology researchers (including some of us) were worried about many of the issues of reproducibility, replicability, and experimental methods that we've been discussing throughout this book, so they set up a large-scale collaboration to replicate key effects in developmental science. The first of these studies was ManyBabies 1 (The ManyBabies Consortium et al. 2020), a study of infants' preference for baby-talk (also known as "infant directed speech").
The core team expected a handful of labs to contribute, but after a year-long data collection period, they ended up receiving data from 69 labs around the world! The outpouring of interest signaled a lot of enthusiasm from the community for this kind of collaborative science. Unfortunately, it also made for a tremendous data management headache. All kinds of complications and hilarity ensued as the idiosyncratic data formatting preferences of the various labs were reorganised to fit into a single standardized analysis pipeline (Byers-Heinlein et al. 2020).
All of the specific formatting changes that individual labs made were reasonable – altering column names for clarity, combining templates into a single Excel file, changing units (e.g., from seconds to milliseconds) – but together they created a very challenging data validation problem for the core analysis team, requiring many dozens of hours of coding and hand-checking. The data checking was critical: an error in one lab's data was flagged during validation and led to the painful decision to drop those data from the final dataset. In future ManyBabies projects, the group has committed to using data validation software to ensure that data files uploaded by individual labs conforms to a shared standard.